Having been an Advisor Member in Enterprise Nation since 2017, Paula Byers is now a Digital Trainer for their HeadsUp! training on productivity tools including Xero and other Apps worth up to £1,000, which is offered FREE to small businesses.
The training will focus on four key areas of accounting & finance, sales & marketing, collaboration and time management.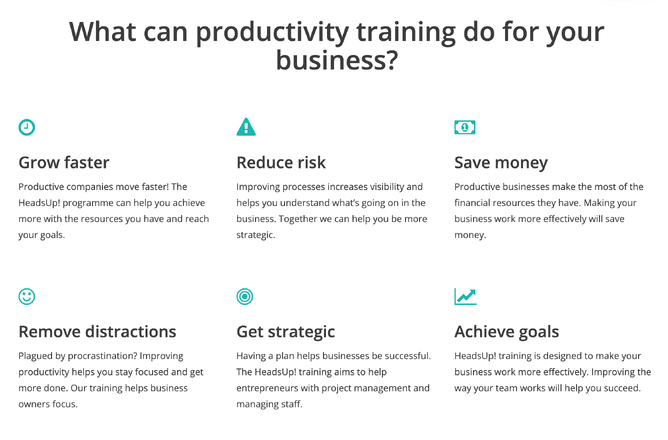 How is LimeCloud involved?
The sessions will be delivered by experienced and accredited trainers, which includes LimeCloud Founder & Director, Paula Byers who will be delivering online training.
The off- and on-line training will be focused on adopting and benefiting from digital technologies in the following key areas:
Accounting and finance
Sales and marketing
Collaboration
Time management
The training is worth £1,000 but it will be delivered FREE to small business owners.

To claim your FREE training, click the image below:
The Background
Enterprise Nation have been awarded funding from the government as part of nationwide efforts to drive up small business productivity and performance.
Primarily it will be working with businesses in Birmingham, London, Oxford and Lancashire, with the the ultimate aim of creating a perfect productivity model that all small businesses can adopt to make more sales, work more efficiently, and achieve both with a happier workforce. They are hoping to then share the model with thousands more businesses beyond the project.
After the government's productivity review found that if small businesses could operate a little more efficiently, then it would deliver significant productivity gains and benefit the economy as a whole.
Rather than small business leaders & founders taking extended period of time out of their business, instead, Enterprise Nation have developed short bite sized courses to allow small business owners to raise their heads and take a moment to work 'on' the business, not 'in' it. That's what HeadsUp! is all about and explains the background to the name: to enable small business owners to pause for a while, lift their heads, and consider how the performance of their business could be improved, with the help of experts.

The project is looking to recruit a cohort of 600 small businesses in Birmingham, London, Oxford and Lancashire who will attend in person workshops. There will also be online webinars bookable by anyone (although the data will only be collected for the pilot areas listed above) and it is the online training our Founder, Paula Byers is delivering.